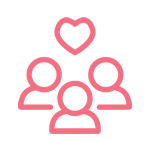 This program provides advocacy services to child victims of abuse being served by the Multidisciplinary Team (MDT) and the Children's Advocacy Center (CAC). Family Advocacy can assist in coordinating intervention services that have been recommended by the MDT members, identifying any barriers that may prevent the family from receiving services, and advocate for immediate service implementation. An advocate is available to children and families for support and to answer questions about the impending investigations, court process and treatment options.
Supports children and family members at all stages of involvement with the Children's Advocacy Center.
Completes assessment of individual needs and cultural considerations.
Links families to social services such as housing, food pantries, transportation, public assistance, domestic violence intervention and couseling.
Assists families in completing Victim Compensation Forms as needed.
Provides court education and support through court proceedings.
These services are available to families who have accessed the Children's Protection Team (CPT). Our hours of operation are Monday, Tuesday and Friday 8:30 AM – 5:00 PM and Wednesday-Thursday  8:30 AM – 8:00 PM.