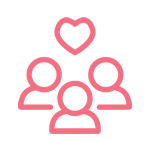 Family Alliance is a child-friendly outpatient counseling program that provides therapeutic treatment to children who have been abused or neglected; children who have witnessed or experienced family violence or a violent crime; non-offending parents; adult survivors of child abuse.
The goals of the program are to assist clients in overcoming abuse-related behavioral and emotional difficulties; and to help clients develop effective coping skills, healthy socialization skills and safety planning skills.
Services are offered Monday through Thursday, 8:00 AM to 8:00 PM, and on Friday from 8:00 AM to 5:00 PM. All services are free of charge.