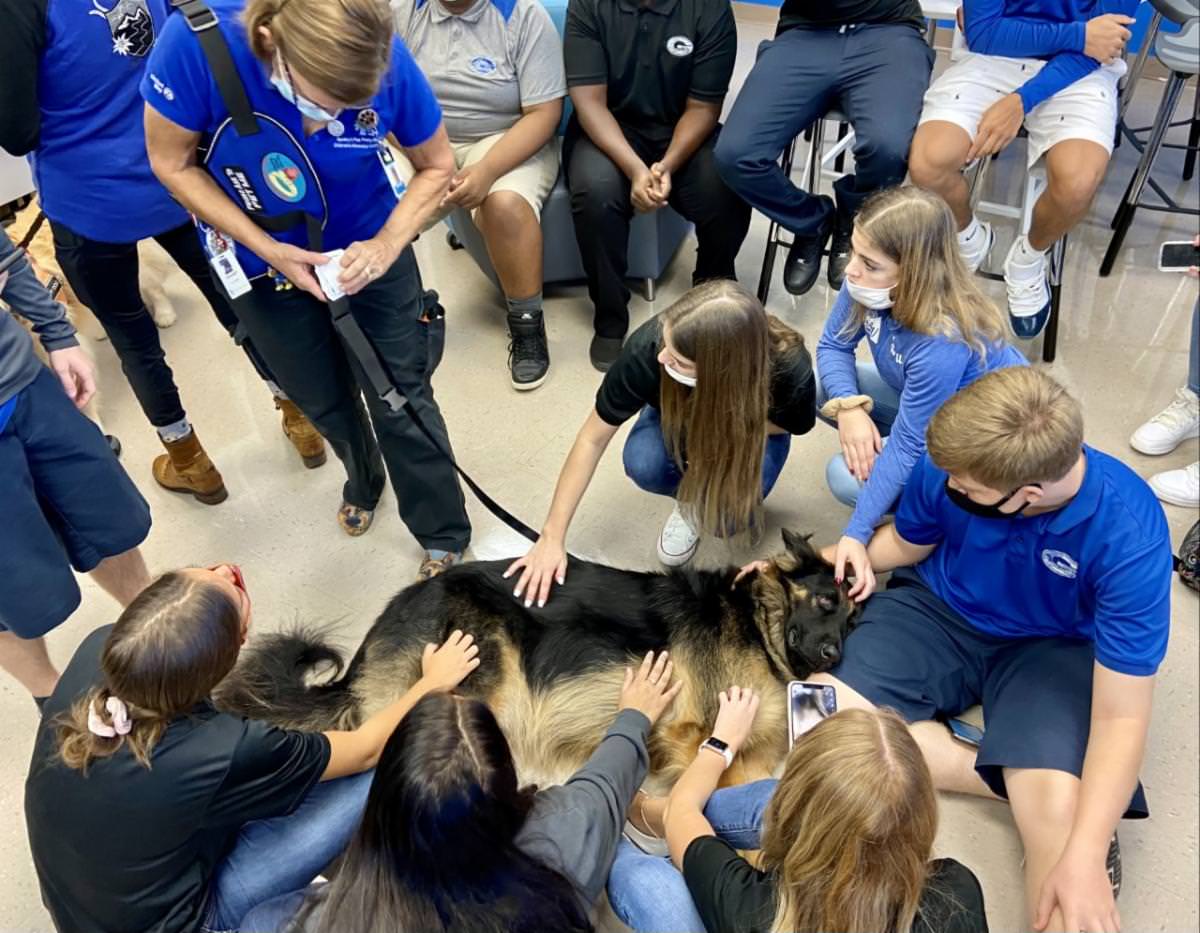 In November, our Beesley's Paw Prints Pet Therapy program was called upon to help at Gateway Charter High School after a lockdown situation. Following is a letter to Lisa Talcott, CAC's Pet Therapy Coordinator, from the school's counselor, Jennifer Whalen:
Good morning Lisa,
I want to thank you so much for providing Gateway Charter Intermediate and High School with several therapy dogs after the lockdown we experienced in November. The lockdown was a frightening experience for many of our students and staff, as none of us knew exactly what was going on during those two hours that we were all locked in a classroom or office. When we returned to school the following Monday, the tension was palpable. I cannot begin to express the gratefulness and relief many of our students and staff felt when we saw the therapy dogs walk through the front doors! The tension melted away!
It took at least 30 minutes to get to the designated room because so many students and teachers stopped in the hallway, or asked for a dog to stop by their room for a few minutes. We had about 100 students come to the classroom to visit with the pups throughout the day and eight classes request a special visit. There were two counselors available to see the students as well, but the dogs were far more popular!
We had visits two days in a row, until a continued threat led the administration team to move to all virtual learning for the last three days before Thanksgiving break. The presence of the therapy dogs helped our students and staff tremendously. I have many students stop by the office to ask, "Are the dogs here today?" In that very stressful situation, many students needed that little break to love on a pup to ease their anxiety.
Thank you again for your support!
Jennifer Whalen, MA Professional Counseling
Academic Advisor/Counselor
Gateway Intermediate Charter School & Gateway Charter High School